2023 Rwanda Training Project Trip Report
---
For five weeks from late June to August 2023, Hilary MacBean, Planet Birdsong Trustee, continued our exciting citizen science programme in Rwanda. In 2018, we began to train individuals from outside higher education and from rural communities all over Rwanda, in bird sound recording using accessible equipment and rigorous scientific methods. Our equipment is a smart phone with the addition of an affordable parabolic reflector called Parachirp, made by our partner, Time and Space Learning in the UK. This compliments our ongoing work with conservation charities and projects in the UK.
Our purposes in Rwanda are twofold. First is to bring rigorous training to ordinary community members to improve their bird identification skills and their capacity as bird tourism guides. This has the effect of opening ears to the richness of bird sounds and the biodiversity of Rwanda to participants and their often rural, home communities. It benefits them economically but also has a considerable benefit to the wellbeing of often stressed individuals.

Second, we realised that the species on the Rwanda bird list are very under-recorded in the western part of their East African ranges, a significant gap given the clinal change in species across their ranges. Also, often, Albertine Rift Endemic species and near endemics are hardly recorded at all.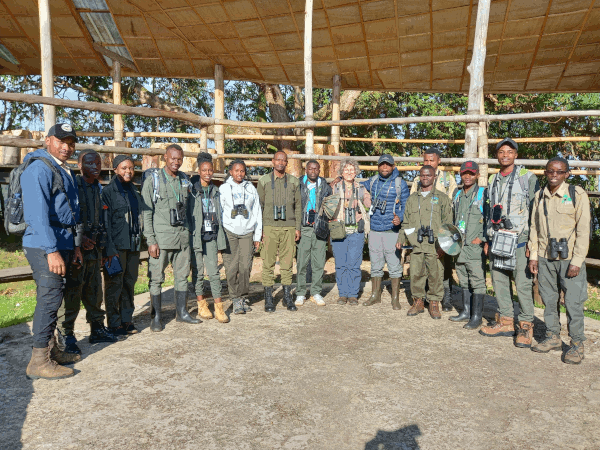 Field training camp at Nyungwe Forest NP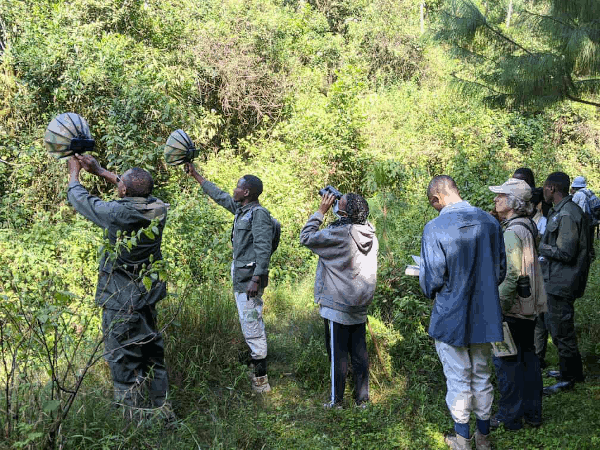 Supervised field training IPRC Kitabi bird club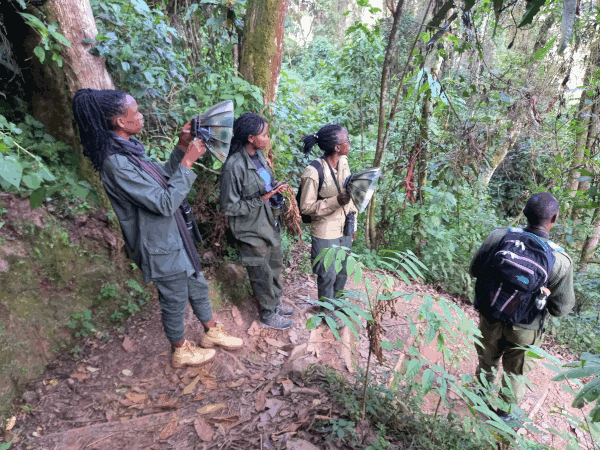 In Rwanda, women are encouraged to actively engage
Our objective is to build a critical mass of interest and competences in recording using citizen science methods, such that we develop and fund local trainers with the passion to carry forward the project and make it sustainable and Rwandan. Citizen science in sub-saharan Africa is novel and experimental, particularly as it invites new birders from communities as well as a growing number interested in birdwatching and ornithology. We utilise the smartphone method developed by eBird at Cornell University, this being more hands-on and self-educational than their complimentary Merlin system (not yet available in Rwanda). The eBird methodology is adapted for a Rwandan audience and Hilary has developed a set of Google training slides that are continually updated and improved based on our experience.
Planet Birdsong continues the educational side of the project year round, through a Whatsapp group and occasional training on Zoom, allowing for very active real time and interactive training, comment and questions. In 2023, the face-to-face training was aimed at those who are already developing skills and who are active in Rwanda. Of course, new people were picked up along the way. The face-to-face element is essential to compliment the on-going on-line training.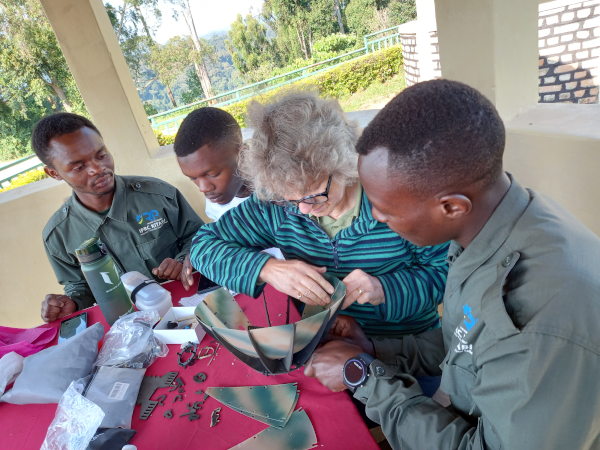 Parachirp parabola building at IPRC Kitabi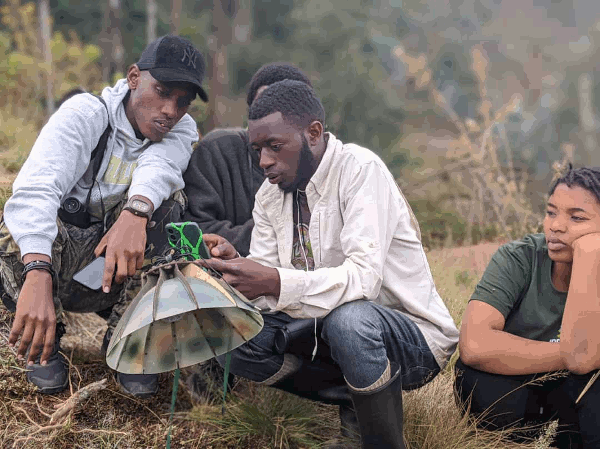 Mutual support and training is key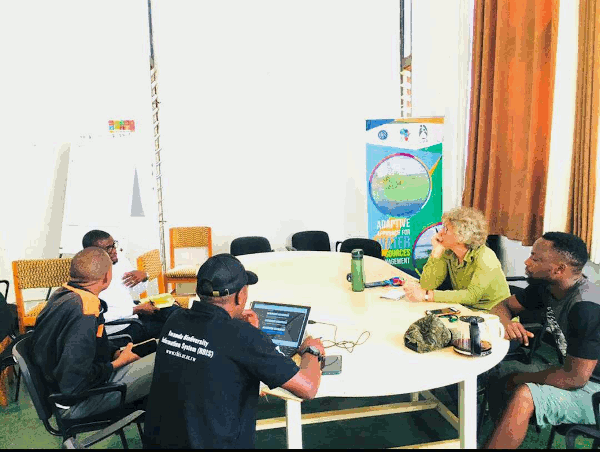 RBIS data business meeting at CoEB
We have an active collaboration and Memorandum of Understanding with the Centre of Excellence in Biodiversity and Natural Resource Management (CoEB) at the University of Rwanda, recently appointed as a Category 2 Centre of Excellence by UNESCO. After verification, our data is delivered free, both to eBird at Cornell and to the Rwanda Biodiversity Information System (RBIS), a data bank of all taxa, operated by CoEB for the advancement of Rwandan biological science, monitoring and research, important in a rapidly developing and changing country. Our citizen scientists are taught the importance of scientific rigour and accuracy in their observations

The training tour in 2023 took Hilary to seven hubs, where a core of trained and competent recordists are being developed to build data and teach the skills to others. Around 35 individuals received initial or more advanced recording training. Many more were introduced to birdwatching for the first time and some of those are likely to join the recording groups. Mutual support and self-training within the groups is an important feature of the project.
The emerging regional hubs are:
A technical school at Kivu Hills Academy, along the Congo Nile Divide,
Nyungwe Forest National Park, an important area of pristine Afro-montane rainforest and home to 26 of the Albertine Rift Endemic bird species and many other localised species,
The Integrated Polytechnic Regional College IPRC at Kitabi, close to Nyungwe NP, a further education college responsible for training the wildlife guides, rangers and trackers of the future,
The University of Rwanda CoEB base at Huye,
The Akagera National Park community guides,
Rwanda Youth Birders and Nature Rwanda at Musanze, close to the Volcanoes National Park, home of the Mountain Gorillas, in the North,
Kigali where the University of Rwanda undergraduate course in biology and zoology is based and where naisant interest in ornithology is being developed. There are also some excellent urban conservation reserves and eco parks in Kigali, with guides with a strong interest in birdlife and conservation, as well as providing green lungs in a rapidly growing city.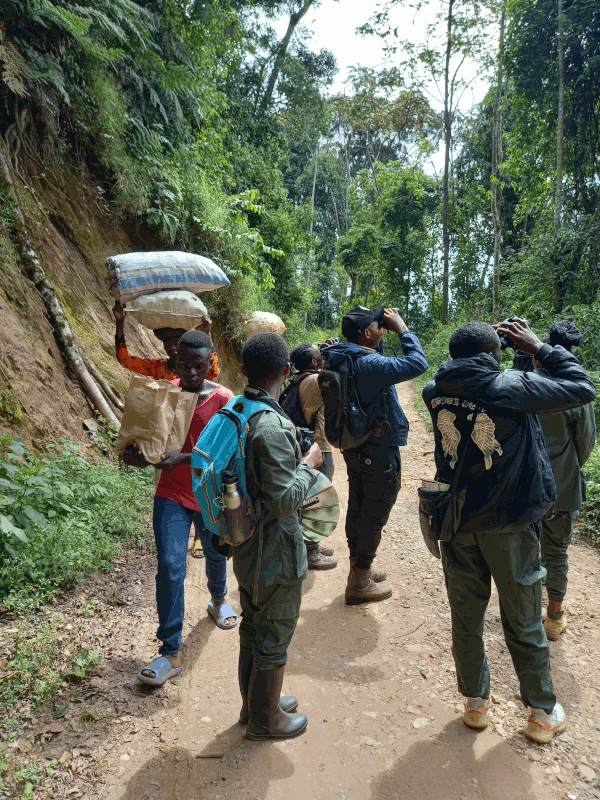 Training camp Nyungwe NP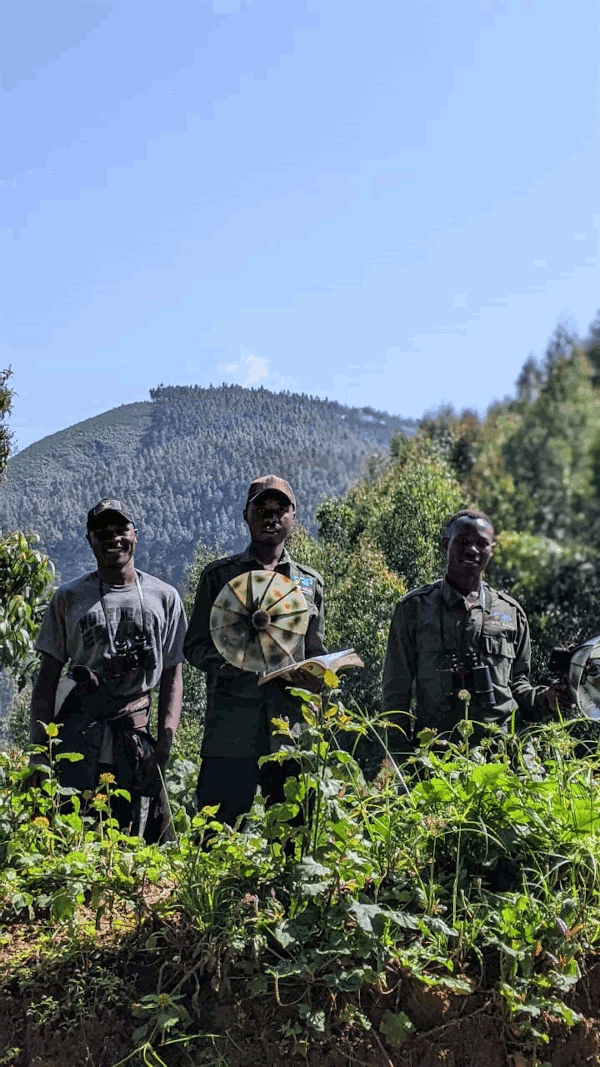 Continuing training activity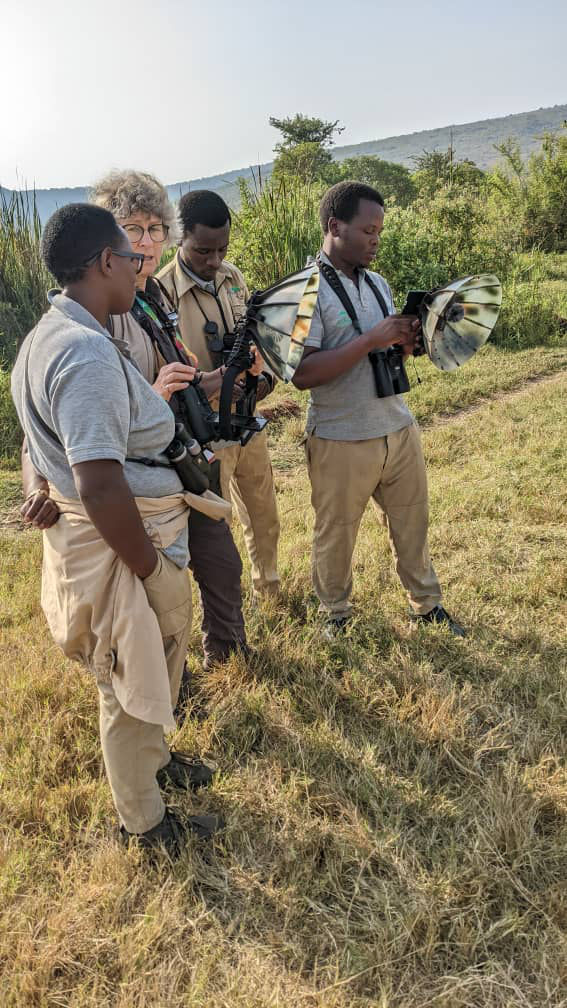 Field training Akagera NP Community Guides
The training comprises field recording skills, accurate labelling of records with species name and metadata, light processing on Ocenaudio digital audio workstation, a platform and method recommended by Cornell Centre for Ornithology/eBird. The training also includes clear methodology for the validation and submission of records to the two data sets
Hilary finds a great enthusiasm, commitment and thirst for learning from largely student or community guide trainees, with participation from some academic undergraduate and postgraduate conservation biologists. We at Planet Birdsong wish to back up this success with funds for equipment and support for Rwandan trainers, essential to carry forward this powerful project and build critical mass for data collection and identification skills amongst Rwandans.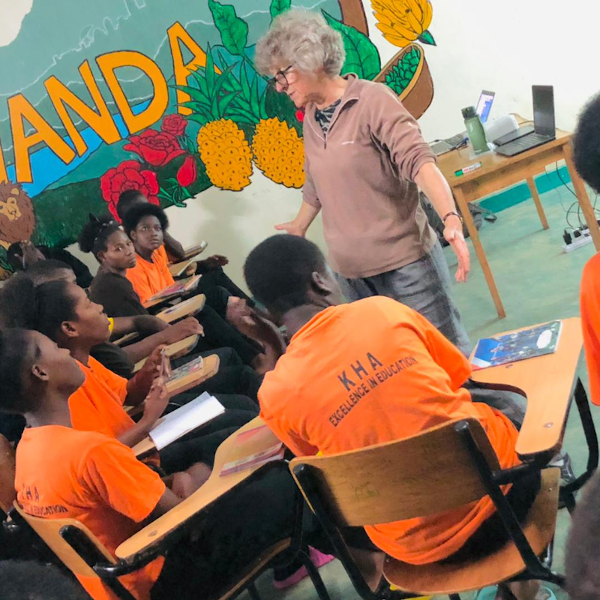 Classroom teaching Kivu Hills Academy TVET (tech school)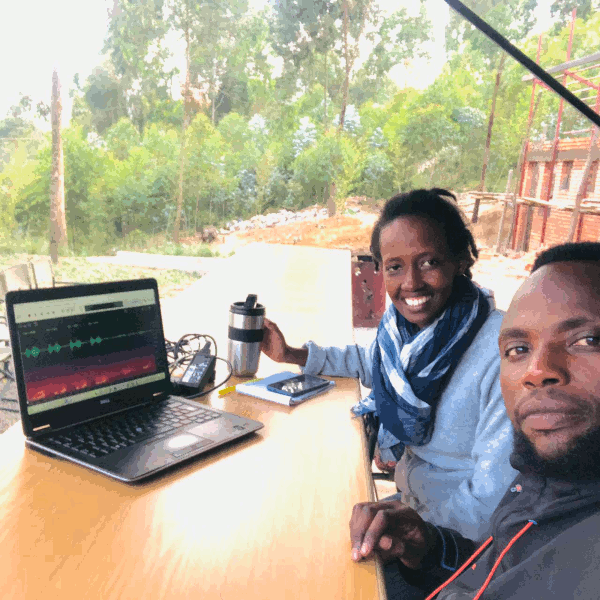 Mutual training Ocenaudio spectrograms, Rugezi Bioblitz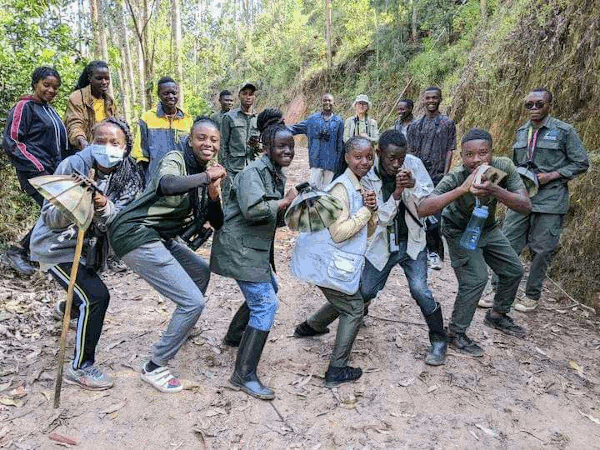 Having fun and returning from the field