---
Meet the Team

Peter Cowdrey
is a UK based composer, pianist and ornithologist with a particular interest in birdsong and recording. As a small boy he loved listening to the dawn chorus but was deeply frustrated at birdsong's inaccessibility - too fast, too high, and resolutely resistant to being shoehorned into what was generally defined as music. Peter is excited that advances in technology have made it possible to crack the hidden codes of birdsong and seeks to share them with the rest of the world, especially children. Peter is working on appropriate techniques and equipment for bioacoustics recording and processing, as well as the educational game app and teaching aspects of the project. Peter is founder of Planet Birdsong and a Trustee of Planet Birdsong Foundation. Click
here
to watch a short BBC documentary about Peter and his sister Liz.

Hilary MacBean is a retired Chartered Town Planner from the UK with an interest in sustainable development practice and now focuses on bird and wildlife conservation. She is leading on the link with University of Rwanda CoEB, is working on appropriate bio-acoustic recording and processing techniques and supporting the logistical and organisational side of the project. She provides the links to several Rwandan experts and organisations. She has visited Rwanda several times since 2015 and is involved in mentoring and training young bird guides for international tourism, assisting in tourism marketing and some work in schools with local NGOs. Her interests are in bird life conservation and data as an indicator of biodiversity health, aimed at a holistic and sustainable approach to conservation and community development. She is a supporter of dynamic organisations such as the Rwanda Wildlife Conservation Association and Conservation Heritage Turambe. Hilary is a Trustee of Planet Birdsong Foundation.

Isak Herman, PhD
brings over a decade of collaborative work with marine, terrestrial and avian conservation organizations around the world. With a background in computational acoustics, his subsequent doctoral research, through the Department of Computer Science and Technology at the University of Cambridge, UK, involved specialization in design and development of public engagement technology for bioacoustic education and citizen science. As a trustee of the Planet Birdsong Foundation he specializes in web and mobile software development with a focus on educational games. For past and ongoing research work, find out more at
bioacoustic.games
.

Liz Cowdrey
is enchanted by birdsong's elusive higher vibrations. She has begun to use spectrographs to deepen her musical journeys into magical sounds, finding out just what goes on from one note to the next. An international violinist dedicated to spreading the
gypsy spirit
through violin playing, Liz recreates the essence of birdsong through style and gesture as a learning tool both in preparation for performance and in educational work. Liz has led workshops for Planet Birdsong from the start.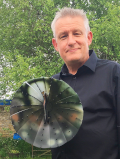 Mark Adams
formed
Time and Space Learning
with wife Bev after 20 years teaching and five years as an industrial designer. They rented Brockford Barn in Suffolk and worked with youngsters who struggled to access mainstream education . Many of their students benefit from the technology and the design philosophy Mark teaches about identifying needs and meeting these efficiently and accurately. The ParaChirp parabolic reflector came about when Mark set about facilitating the recording of birdsong for Planet Birdsong's work at Brockford Barn. Later Mark developed the concept for recording using students own mobile devices. With the help of the Planet Birdsong team, students, and friends Mark has iterated the design through many versions with more to come pending forthcoming feedback from the field in Rwanda.

Peter Murray Threipland is a Scottish Highlands based filmmaker with a growing passion for birdsong. He works on Birdsong Studios in schools and environmental projects across the UK with Planet Birdsong founder Peter Cowdrey, working on the essential elements of sound design, recording and editing that bring the studios to life. He is a keen traveller and avid sailor, and eagerly looks forward to what the future holds for Planet Birdsong.
In Rwanda

Gael Van de Weghe is our Rwandan expert for the recording and verification of the Rwandan bird list. He, together with his father Jean, is the author of "Birds of Rwanda" published by Rwanda Development Board (RDB), and subsequent taxonomic updates. He is regarded amongst Rwandan birders as one of the most pre-eminent ornithologists and naturalists in Rwanda and the Great lakes area. He is currently acting as country recorder and verifier for bird observations. He is very keen on the recording and ornithological science element of the project and international connection to Cornell University eBird global data collection. He is a big supporter of the bird guides in Rwanda as they improve their bird knowledge. He is already participating in CoEB's Rwanda Biodiversity Information System (RBIS)data portal and supports the expansion of citizen science.


University of Rwanda CoEB staff and Post Graduates are providing in-country project leadership and coordination.
Educational Support
James de Winter
is Secondary Professional Development Leader at the
Science Learning Centre East of England
, developing and supporting physics education. He is a PGCE Physics tutor at the Faculty of Education, University of Cambridge and teaches on the Science Education MEd course. His
website
is a resource for teachers exploring ways of using spectrographs of birdsong as a physics education tool.